| | |
| --- | --- |
| Price: | $94.00 |
| Prod. Code: | RGSUK |
Bagpipe "Start-up kit" for kids
Here at Barr 1 Highland Supply we receive a ton of emails and phone calls........... what will my child need to get started playing the bagpipes?
The Answer is: A book and a practice chanter with practice chanter reed.
Book- The College of Piping Book Volume 1 is the best book for starters. Some of your best pipers playing today started with this book.
Practice chanter- R.G, Hardie (junior or regular length practice chanter) you have a number of different choices however this is one of our favorite . One of the big advantages is It has the O rings as apposed to the hemp. This allows the beginner to properly install the chanter together the same way everytime.
NOTE: This is the children's size chanter. Adults, please go back to starter kits and select " Starter Kits".
Kids ages 4-9 we suggest the junior length, ages 9 and up we suggest the regular length or long. The long practice chanter has a package all my itself. Please go back to start-up packages and select "Start-up with long practice chanter"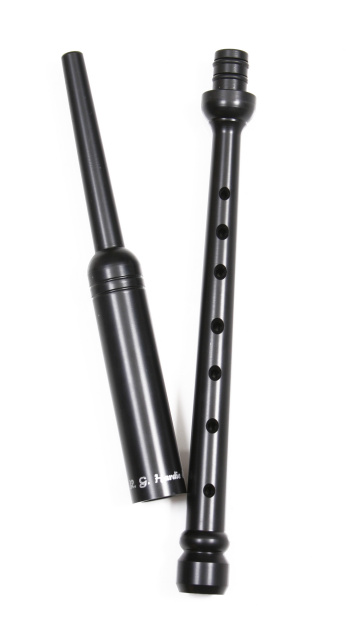 The R.G. Hardie basic practice chanter is a budget chanter with a plain finish and countersunk holes. An excellent choice for a young child who has not yet developed for the standard or long size practice chanters.
Comes complete with a reed.
The College of Piping Volume 1 Tutor Book with CDROM is the most widely used instruction guide for beginning the bagpipes. This trusted resource has clear pictures and text that have helped many learn the bagpipes. The CDROM has video and audio clips to accompany many of the lessons, so beginners can see and hear how exercises and tunes are supposed to be performed.
The College of Piping Book: The book begins with the basics: reading music, playing notes on the practice chanter, and fundamental fingering. By Lesson 5, you're starting to play part of a tune. The book includes 14 tunes.
The CDROM: The CDROM has video and audio files to accompany lessons in the book, as well as worksheets. Windows Media Player is required. The audio tracks can also be played on a standard CD player.
From Robert Wallace's Introduction to the Book: "The tutor is structured so that the student piper can learn one lesson a week, making a complete course of just over six months. It has been done in less and it has been done in more, but the important thing is to learn the exercises and tunes carefully and accurately. This book explains as simply as possible all of the required first movements. You should use it in conjunction with the audio and video files on the enclosed CDROM."